EL Education is transforming literacy education with an acclaimed curriculum, proven professional development, and a suite of resources that empower teachers to master their greatest aspirations and build equitable and inclusive learning opportunities for all students.
Created by teachers for teachers, and based on college and career readiness standards, the EL Education Language Arts curriculum is a comprehensive, research-informed, core language arts program that engages teachers and students through compelling, real world content.
EL Education K-8 Language Arts Curriculum Overview from EL Education on Vimeo.
What Sets the Curriculum Apart?
We joined together with former and current teachers in public schools across the country, along with experts in standards, pedagogy, and English Language Learner support, to create the EL Education K-8 Language Arts Curriculum. Eight principles guide our curriculum design:
Equity & Inclusion: All children deserve curriculum that fosters their unique abilities, honors their assets, gives them the real opportunity to achieve high academic standards, and builds their capacity to shape the world around them. Students excel in diverse and inclusive settings. To that end, the curriculum presumes English language learners and students of varying abilities are fully participating members of a diverse and heterogeneous classroom structure, while honoring some learners' need for targeted instruction and additional supports.
Embedded Social Emotional Learning: Research shows that academic and social-emotional development are intertwined and mutually reinforcing, so our curriculum encourages students to develop as effective learners and ethical people. Opportunities are integrated for students to contribute to a better world, putting their learning to use as active citizens, working for social justice, environmental stewardship, and healthy, equitable communities.
Knowledge-Rich, Substantive Content: Research shows that the deeper the content knowledge a student has, the more she is able to understand what she reads, and the more she is able to speak and write clearly about that content. Our curriculum includes rich literature and complex texts that build real-world knowledge. Students tackle grade-level texts that stretch and grow their abilities, while experiencing the joy of learning from their favorite books by diverse authors.
Open Educational Resource (OER): We believe that all students and educators deserve access to high quality educational resources, so our curriculum is open access, available on this site to download for free, and adaptable by providers who are meeting diverse school needs.
Students own their learning. From the earliest grades, students learn to see themselves as active learners with agency in their own education. With the teacher's guidance, they articulate specific learning targets in every lesson, set goals, assess their own learning, and use self-reflection and feedback from peers, themselves, and their teachers to make progress.
Curriculum as Professional Development: As fellow educators, we recognize the challenge of delivering rigorous instructional experiences to students of all levels. Our curriculum is written to help teachers envision and implement instructional routines that allow all types of learners to access the material. Both new and veteran teachers build on their existing expertise and strengthen instructional decision-making.
The Science of Reading:

Based on literacy research, our curriculum includes content-rich literature across the disciplines as well as a K-2 structured phonics program.

Standards-based: It is tailor-built to standards and receives quality reviews against acclaimed standards-alignment rubrics (IMET, EQuIP) conducted by leading experts.
How is the Curriculum Structured?
At the heart of the curriculum, at all grade levels, are the hour-long module lessons. Each grade level includes four modules, which span a full school year. The four modules allow students to build important content knowledge based on a compelling topic related to science, social studies, or literature. Learn more here or watch our overview videos of each curriculum component.
History
1995 - The Harvard Graduate School of Education joins Outward Bound USA to found EL Education as a new vision for public schools, then called Expeditionary Learning. The EL Education school model receives start-up funding by the New American Schools federal initiative. Only the top 1% of proposals received funding.
2012 - New York State commissioned EL Education to create our first edition of the Grade 3-8 ELA Curriculum, released under the EngageNY name. The New York City Department of Education has said it is among "the highest-quality Common Core-aligned curriculum materials currently available." The curriculum has been downloaded from the EngageNY website more than 11 million times.
2013 - EL education awarded validation level i3 research grant looking at the impact of the implementation of our ELA curriculum.
2016 - Downloads of the first edition grades 3-8 ELA curriculum surpass 6 million!
2017 - EL Education releases a second edition of grades 3-5 and a first edition of grades K-2, comprising the EL Education K-5 Language Arts curriculum, formerly referred to as EngageNY. The curriculum received the highest ever rating for an elementary ELA curriculum according to independent reviewer EdReports. EL Education made the curriculum available online to download for as an Open Educational Resource (OER).
2020 - EL Education releases a second edition of grades 6-8. Like the first edition curriculum we authored for EngageNY, the second edition is the result of deep collaboration with teachers, students, and literacy experts. Thanks in great part to their contributions, the second edition of 6-8 features greater representation of diverse cultures and people, new supports for English language learners, and improved usability.
Learn more about our history here.
Approach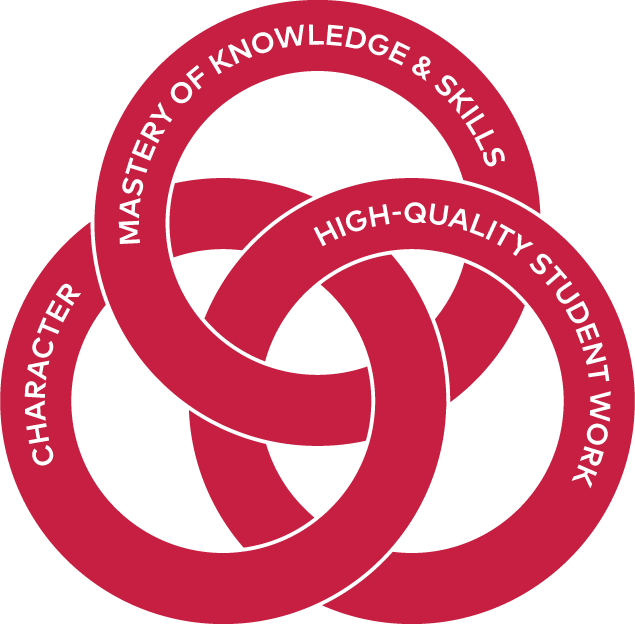 When students enter adult life, they will not be celebrated for their performance on basic skills tests, but rather for the quality of their work and their character. That's why EL Education builds students' capacity for three dimensions of high achievement:
Mastery of knowledge and skills
Character, and
High-quality work
Our expanded definition of student achievement draws on decades of research demonstrating that social, emotional, and academic development are inseparable and mutually reinforcing. These three dimensions are the pillars of the K–5 Language Arts curriculum and our approach to professional development. Learn more.
EL Education
EL Education is a leading K-12 nonprofit redefining and raising student achievement in partnership with diverse public schools and districts across the country. We ask, what if school served a higher purpose? Not just to nurture academic excellence, but to develop successful human beings, who possess the passion and capacity to contribute to a better world?
This is EL Education's vision for public school⁠—a place where students of all backgrounds and identities have the power to exceed the highest standards—as scholars and as community members. We partner with educators in hundreds of diverse schools and districts to bring this opportunity to every student.
Our roadmaps are the acclaimed EL Education Language Arts curriculum and the EL Education model for school transformation. Our guides are the EL education coaches and their portfolio of instructional resources. See what our students can achieve when we educate for a better world.